An Efficient Energy Saving Solution!
With the rise of today's household expenses, you would surely want to cut back from a lot of other sources of expenses including electricity. That is why many people today are looking for the best electricity saver  just to help them with this problem.
Electric saving devices are machines which aid you in cutting back your total electric bill. One known electricity saver is the Electric Saver 1200. It works very efficiently and is highly patterned to help appliances found in your home save more energy. This device was placed on the market in order to help you save on your total electric bill. It can even aid in lessening electric bill from the Air Conditioner which constitutes about 40 to 60% of your electric bill.  If you have a motor in your home such as a Heat Pump, pool pump or Central A/C, the Electric Saver 1200 can be installed there. It can also be installed to your Electric Panel.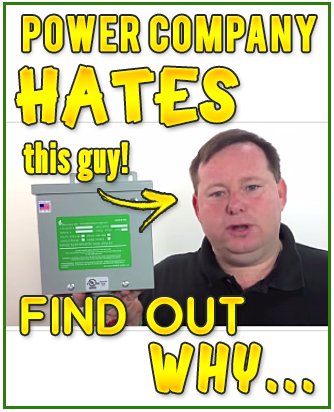 This electric saving box does not only help you in lessening the total electric bill but also it is designed to prolong the life of your motors and appliances. By installing the Electricity Saver you are protecting your home's motors/appliances from power surges.
As soon you try this electric saving device, you will experience a savings on your electric bill up to 25%. Not only that, but it also comes with a 20-year warranty on workmanship and product defects. The best thing about this is that it is very easy to use, not complicated! Moreover, you need not learn how to maintain because its maintenance-free. No more hassle! You can expect it to aid you for 25 long years!
You may be asking how this device will work? Bear in mind that as you turn on motors or machines at home, they will get transformer power from the power company. The power will then pass continuously through the wires found on your property, electric panel, meter gauge, through the transformer, going back to the wiring in your home and finally to the motor that demands it.  This cycle will build up heat and strains the wiring as well as the motors. The heat being produced from the process is what we call watts.
This is how Electric Saver 1200 specially works.  Its task is to recycle those lost energies and gives it back to the machine that produced it as needed. If this process (reusing the lost energy) keeps on going, it will reduce the amount of heat that runs through the wires and motors found in your home. If you lessen the heat you will give yourself a lower and more affordable electric bill. What's more is that you get to extend the life of your motors.
Many people are now getting involved in this type of remedy for sky high electric bills. Be one of them now and try the Electric Saver 1200. Click Here for More Information
Stop wasting your time and money. Start saving your electric bills and earn your money back.